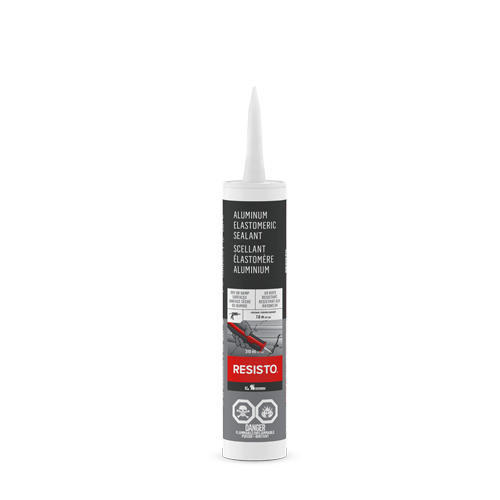 ALUMINUM ELASTOMERIC SEALANT
Mastic containing elastomeric bitumen, volatile solvents, asbestos-free fibres and mineral fillers. It contains aluminum pigmentation distributed through the entire product for superior UV protection. It is used as a caulking mastic and for filling cracks. It is compatible with bitumen-based products and adheres to a variety of materials without primer.
Benefits
May be applied to damp surfaces
Adheres to a wide variety of materials
Withstands temperature variations
Excellent UV resistance
Tests and certifications

Characteristics
-40 °C to 80 °C (-40 °F to 176 °F)
Instructions
The product can withstand freezing. Store in its original, closed packaging, in a cool, well-ventilated area with a temperature up to 40 ° C (104 °F).
Minimum application temperature
Maximum application temperature
The substrate must be clean and free of dust, grease or other contaminants.
Keep out of the reach of children. Properly close container after each use. Keep out of the sun and away from ignition sources. During use, keep away from ignition sources. Do not smoke. After application, keep away from flames until the solvent has evaporated. Do not pour residues in drains.
It is not recommended to use a product containing bitumen directly on softwood boards or flexible polyvinyl chloride.
Tools can be cleaned with solvents such as mineral spirits, Varsol, and xylene
Previous identity
Conditioning
ALUMINUM ELASTOMERIC SEALANT
Weight per skid
588 kg (1,297 lb)
Coverage
7.6 m (25 ft) for a 6 mm (1/4 in) wide bead
Palletization
ALUMINUM ELASTOMERIC SEALANT
Weight per skid
588 kg (1,297 lb)