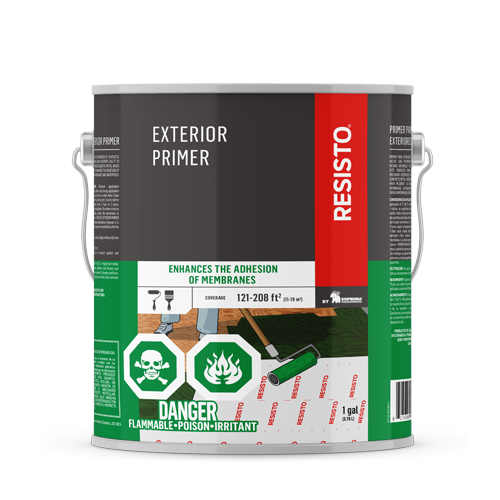 EXTERIOR PRIMER
The EXTERIOR PRIMER is a synthetic polymer-based cold-process compound made of natural resins and solvent. It is used to prime and prepare exterior surfaces, such as concrete, metal, wood and plywood to enhance the adherence of RESISTO elastomeric SBS bitumen self-adhesive membranes.
Benefits
Resistant to water, alcohol and most saline, alkaline and dilute acid solutions
Primes and prepares several types of surfaces
Fast curing
Tests and certifications

Properties
Roofs
Walls
Doors and Windows
Foundations
Decks and Balconies
Adhesion-enhancing resins
SBS synthetic rubbers
Volatile solvents
Characteristics
Plywood
OSB
Asphaltic panel
Wood
Metal
Treated wood
Concrete
Exterior gypsum
Paint brush applied
Rolled
Sprayed
Cover as soon as it is dry
Instructions
Store in its original, closed packaging, in a cool, well-ventilated area with a temperature between -10 °C and 40 °C (14 °F and 104°F). Can withstand freezing.
Minimum application temperature
Paint brush
Roller
Sprayer
The substrate must be clean and free of dust, grease or other contaminants.
Keep out of the reach of children. Properly close the container after each use. Keep out of the sun and away from ignition sources. During use, keep away from ignition sources. Do not smoke. After application, keep away from flames until the solvent has evaporated. Harmful if swallowed, inhaled, or in contact with skin. Store in a closed room, well ventilated by forced ventilation if necessary, and provide supervision from outside. Do not pour residues in drains.
Do not apply EXTERIOR PRIMER onto polystyrene surfaces.
Tools can be cleaned with solvents such as mineral spirits, Varsol, and xylene.
Previous identity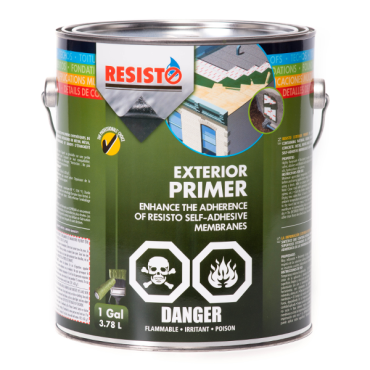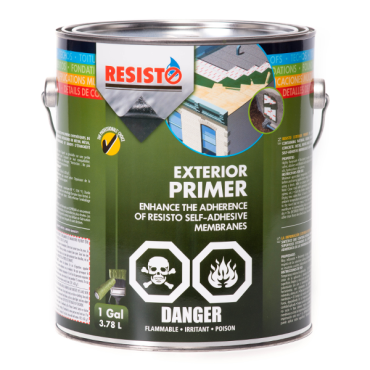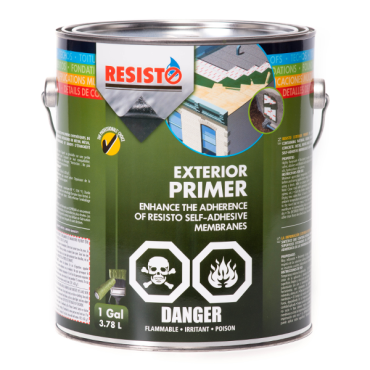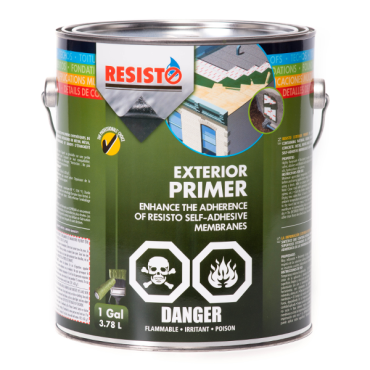 Conditioning
Coverage
3 to 5 m² (32 to 55 ft²)
Weight per skid
455 kg (1,005 lb)
Coverage
56 to 96 m² (608 to 1,040 ft²)
Weight
18.77 kg (41.38 lb)
Weight per skid
690 kg (1,520 lb)
Coverage
29.8 to 51 m² (321 to 550 ft²)
Weight per skid
655 kg/1,445 lb
Coverage
11 to 19 m² (121 to 208 ft²)
Weight per skid
720kg (1,585 lb)
Packaging
350 g (12.3 oz)
Weight per skid
545 kg/1,200 lb
Palletization
Weight per skid
455 kg (1,005 lb)
Weight per skid
690 kg (1,520 lb)
Weight per skid
655 kg/1,445 lb
Weight per skid
720kg (1,585 lb)
Weight per skid
545 kg/1,200 lb