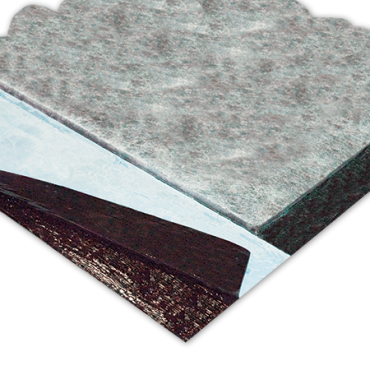 HIGH-DENSITY SUPPORT PANEL
DUOBOARD SANDED is a high-performance, high-density support panel consisting of an elastomeric SBS bitumen membrane factory laminated on an asphaltic board.
Benefits
Superior sealing due to the DUO SELVEDGE technology
Quick installation: 2 products in 1
Flexible
Tests and certifications

Characteristics
Outside low slope
Outside very low slope
Inside slope
SBS modified bitumen membranes
Plywood
OSB
Wood
Steel deck
Mechanically fastened
Hot air welded
Cover as soon as possible
Instructions
If the products are stored outdoors, cover them with an opaque protective cover after removing the delivery packaging. Can withstand freezing.
Knife
Tape measure
Smoothing roller
Electric heat gun
DUOMATIC hot air welder
The substrate must be clean, dry, and free of dust, grease or other contaminants.
It is not recommended to use a product containing bitumen directly on softwood boards softwood or of flexible polyvinyl chloride.
Conditioning
DUOBOARD SANDED PRELAMINATED SUPPORT PANNEL
Gross area
2.22 m² (24.0 ft²)
Weight
16.34 kg (36.03 lb)
Palletization
DUOBOARD SANDED PRELAMINATED SUPPORT PANNEL