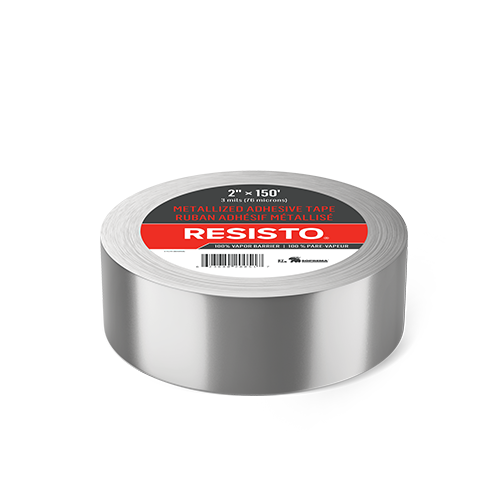 METALIZED ADHESIVE TAPE
The METALLIZED ADHESIVE TAPE is made of a self-adhesive metallic film. It is designed to seal the joints of metallic surfaces.
Benefits
The ALUMINUM ADHESIVE TAPE is designed to seal joints on metallic surfaces of RESISTO HIGH-PERFORMANCE REFLECTIVE INSULATION products.
Tests and certifications

Characteristics
-20 to 80 °C (-4 to 176 °F)
Instructions
Should be stored inside at room temperature (around 20 °C / 70 °F) and kept from wet and heat source, out of direct sunlight.
Minimum application temperature
Ensure to apply the tape over a clean, dry, and free of grease and oil surface. Ensure as well to test the adhesion and ensure suitability prior full application of the product.
Previous identity
AYR-FOIL METALIZED ADHESIVE TAPE