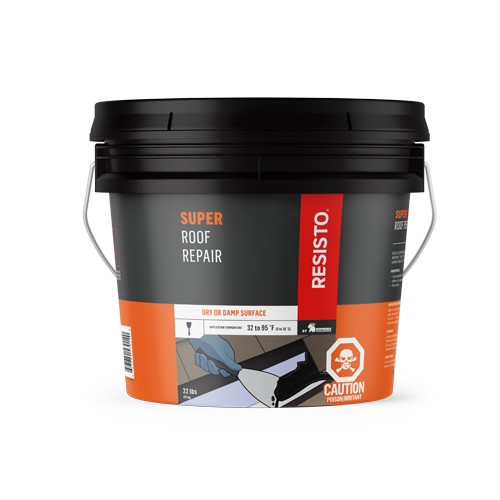 SUPER ROOF REPAIR
SUPER ROOF REPAIR is an all-purpose black mastic composed of bitumen, fibres, and mineral fillers, with low level of solvent. Its formulation offers good resistance to temperature variations.
Benefits
Can be applied on wet or dry surfaces
Winter grade also offered
Good resistance to temperature variations
Tests and certifications
Characteristics
Wood
Metal
Concrete
Asphalt shingles
Caulk gun applied
Trowel applied
-40 °C to 80 °C (-40 °F to 176 °F)
Instructions
Store in its original, closed packaging, in a cool, well-ventilated area with a temperature up to 40 °C (104°F). Can withstand freezing.
Minimum application temperature
The substrate must be clean and free of dust, grease or other contaminants.
Keep out of the reach of children. Properly close the container after each use. Keep out of the sun and away from ignition sources. During use, keep away from ignition sources. Do not smoke. After application, keep away from flames until the solvent has evaporated. Do not pour residues in drains.
Do not apply strips greater than 1 cm (1/2 in) in width. It is not recommended to use a product containing bitumen directly on softwood boards or flexible polyvinyl chloride.
Tools can be cleaned with solvents such as mineral spirits, Varsol, and xylene
Previous identity
Conditioning
Packaging
310 ml (10.5 oz)