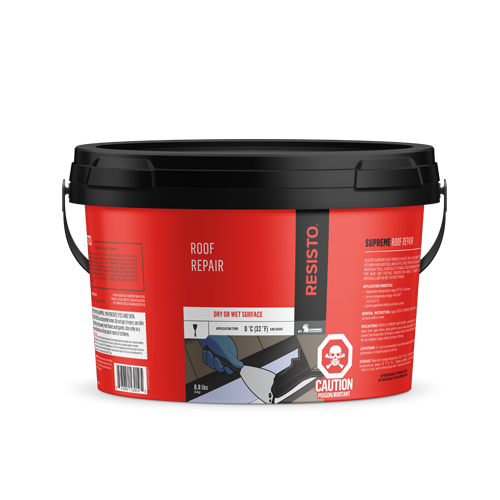 SUPREME ROOF REPAIR
This product was specifically developed for professional roofers. With a higher concentration of high- quality bitumen, it seals roof elements, such as flashings, vents or upstands, and it repairs various joints, holes and cracks, built-up roofs, etc.
Benefits
Designed to adhere to all types of surfaces, either dry or wet
The choice of professional roofers
Designed to adhere to all surfaces
Flexible and smooth, easy to handle with a trowel
Excellent resistance to temperature variations
Application in any season, even in cold weather
Tests and certifications

Characteristics
Wood
Metal
Concrete
Asphalt shingles
Caulk gun applied
Trowel applied
-40 °C to 80 °C (-40 °F to 176 °F)
Instructions
Store in its original, closed packaging, in a cool, well-ventilated area with a temperature up to 40 °C (104°F). Can withstand freezing.
Minimum application temperature
The substrate must be clean and free of dust, grease or other contaminants.
Keep out of the reach of children. Properly close the container after each use. Keep out of the sun and away from ignition sources. During use, keep away from ignition sources. Do not smoke. After application, keep away from flames until the solvent has evaporated. Do not pour residues in drains.
Do not apply strips greater than 1 cm (1/2 in) in width. It is not recommended to use a product containing bitumen directly on softwood boards or flexible polyvinyl chloride.
Tools can be cleaned with solvents such as mineral spirits, Varsol, and xylene
Previous identity
Conditioning
Packaging
310 ml (10.5 oz)
Packaging
13.6 kg (30 lb)