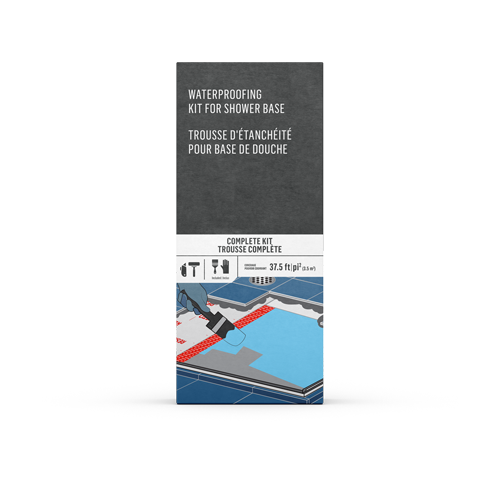 WATERPROOFING KIT FOR SHOWER BASE
WATERPROOFING KIT FOR SHOWER BASE contains all the material required to waterproof a home-made shower base (approx. 19 ft²).
Benefits
Complete kit to waterproof a shower base
Surface compatible with ceramic tiles
No special tools required
Clean and easy installation
Effective and hard-wearing
Tests and certifications

Characteristics
Wood
Concrete
Gypsum
Fibre cement
Trilaminate woven polyethylene
-40 °C to 90 °C (-40 °F to 194 °F)
RESISTO H₂O PRIMER (910 ml)
REDZONE WATERPROOFING TAPE (10 cm × 7.6 m / 4 in × 25 ft)
RESISTO BASIC WATERPROOFING MEMBRANE (50 cm × 3.5 m / 20 in × 11.5 ft)
Brush and gloves
Instructions
See technical data sheet from included products for more details.
Minimum application temperature
Knife
Tape measure
Smoothing roller
Paint brush
The substrate must be clean, dry, and free of dust, grease or other contaminants.
It is not recommended to use a product containing bitumen directly on softwood boards or flexible polyvinyl chloride.
Previous identity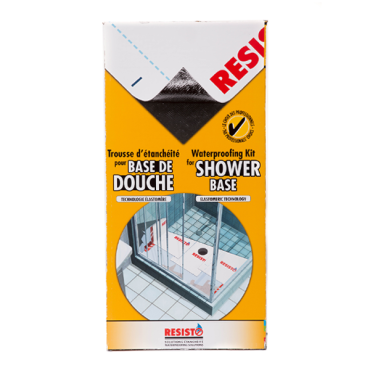 WATERPROOFING KIT FOR SHOWER BASE
Conditioning
WATERPROOFING KIT FOR SHOWER BASE
Gross area
1.75 m² (19.2 ft²)
Weight
12.96 kg (28.57 lb)
Weight per skid
375 kg (828 lb)
Palletization
WATERPROOFING KIT FOR SHOWER BASE
Weight per skid
375 kg (828 lb)