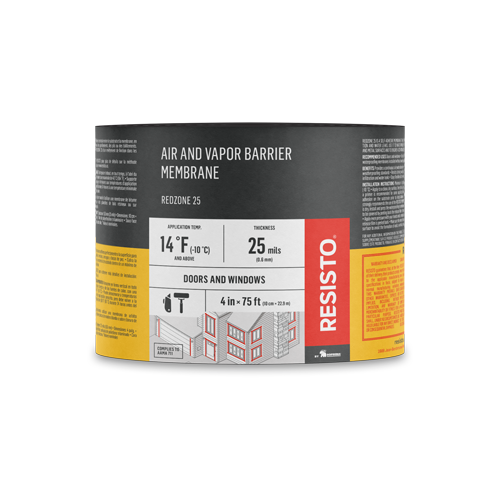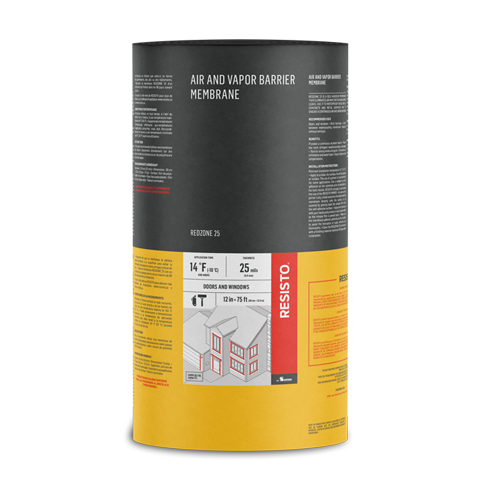 AIR AND VAPOR BARRIER MEMBRANE REDZONE 25
REDZONE 25 AIR AND VAPOR BARRIER MEMBRANE is a 0.6 mm (25 mils) self-adhesive membrane composed of elastomeric SBS bitumen and trilaminate woven polyethylene. The underface is composed of a silicone film easily detachable. It seals air and vapour around door and window frames.
Benefits
Provides continuous air and vapour barrier
Meets door and window installation standards (CSA A440.4-07)
Self-sealing around screws and nails
Meets door and window installation standards (CSA A440.4-07)
Tests and certifications


Properties
Air/Vapour-Barrier Membranes
Flashing Membranes
Characteristics
Plywood
OSB
Polystyrene
Gypsum
Trilaminate woven polyethylene
-45 °C to 90 °C (-49 °F to 194 °F)
Instructions
Rolls should be stored upright, tape side up, protected from weather damage and UV rays. If the products are stored outdoors, cover them with an opaque protective cover after removing the delivery packaging. Can withstand freezing but must be reactivated to at least 10 ° C (50 °F) before installation.
Minimum application temperature
Knife
Tape measure
Smoothing roller
Roller
The substrate must be clean, dry, and free of dust, grease or other contaminants.
It is not recommended to use a product containing bitumen directly on softwood boards or flexible polyvinyl chloride.
Previous identity
Conditioning
AIR AND VAPOR BARRIER MEMBRANE REDZONE 25
Gross area
20.84 m² (225.0 ft²)
Net area
19.6 m² (212 pi²)
Weight
12.23 kg (26.97 lb)
Weight per skid
499 kg (1,080 lb)
AIR AND VAPOR BARRIER MEMBRANE REDZONE 25
Gross area
10.53 m² (112.5 ft²)
Net area
10.5 m² (113 pi²)
Weight
6.11 kg (13.47 lb)
Weight per skid
499 kg (1,080 lb)
AIR AND VAPOR BARRIER MEMBRANE REDZONE 25
Gross area
6.87 m² (75.0 ft²)
Weight per skid
499 kg (1,080 lb)
AIR AND VAPOR BARRIER MEMBRANE REDZONE 25
Gross area
5.27 m² (56.3 ft²)
Weight per skid
499 kg (1,080 lb)
AIR AND VAPOR BARRIER MEMBRANE REDZONE 25
Gross area
2.29 m² (25.0 ft²)
Weight per skid
499 kg (1,080 lb)
AIR AND VAPOR BARRIER MEMBRANE REDZONE 25
Gross area
3.44 m² (37.5 ft²)
Weight per skid
499 kg (1,080 lb)
Palletization
AIR AND VAPOR BARRIER MEMBRANE REDZONE 25
Weight per skid
499 kg (1,080 lb)
AIR AND VAPOR BARRIER MEMBRANE REDZONE 25
Weight per skid
499 kg (1,080 lb)
AIR AND VAPOR BARRIER MEMBRANE REDZONE 25
Weight per skid
499 kg (1,080 lb)
AIR AND VAPOR BARRIER MEMBRANE REDZONE 25
Weight per skid
499 kg (1,080 lb)
AIR AND VAPOR BARRIER MEMBRANE REDZONE 25
Weight per skid
499 kg (1,080 lb)
AIR AND VAPOR BARRIER MEMBRANE REDZONE 25
Weight per skid
499 kg (1,080 lb)