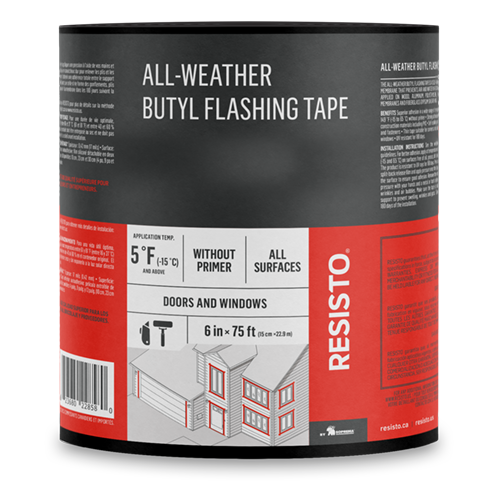 ALL-WEATHER BUTYL FLASHING TAPE
RESISTO ALL-WEATHER BUTYL FLASHING TAPE is a self-adhesive membrane made of rubberized butyl that blocks air and water infiltration. It is easy to apply to wood, aluminum, polyethylene and PVC surfaces, as well as on air barrier membranes and exterior fibreglass gypsum.
Benefits
Superior adhesion at temperatures ranging from -15 to 65 °C (5 to 149 °F) without primer
Excellent adhesion to most common construction materials, including PVC
UV resistant for 180 days
Properties
Air/Vapour-Barrier Membranes
Flashing Membranes
Characteristics
Plywood
OSB
Wood
Metal
Gypsum
Aluminum
House wrap
Polyethylene
-40 °C to 93 °C (-40 °F to 199 °F)
Instructions
Rolls should be stored upright. If the product is stored outdoor, cover them with an opaque protective cover after removal of the delivery packaging. Shelf Life (at 25 °C (77 °F)) : 36 months from date of manufacture. Recommended Storage temperature : 16 °C to 27 °C (61 °F to 81 °F) at 40 to 60% relative humidity.
Minimum application temperature
Knife
Tape measure
Smoothing roller
The substrate should be clean, sound, dry and free of loose materials, grease and any contaminants, which may compromise the performance of the product.
Conditioning
ALL-WEATHER FLASHING TAPE
Net area
3.44 m (36.97 ft²)
Thickness
0.42 mm (17 mils)
ALL-WEATHER FLASHING TAPE
Net area
6.87 m (73.95 ft²)
Thickness
0.42 mm (17 mils)
ALL-WEATHER FLASHING TAPE
Net area
5.27 m (56.69 ft²)
Thickness
0.42 mm (17 mils)
ALL-WEATHER FLASHING TAPE
Net area
2.29 m² (24.65 ft²)
Thickness
0.42 mm (17 mils)
Palletization
ALL-WEATHER FLASHING TAPE
ALL-WEATHER FLASHING TAPE
ALL-WEATHER FLASHING TAPE
ALL-WEATHER FLASHING TAPE