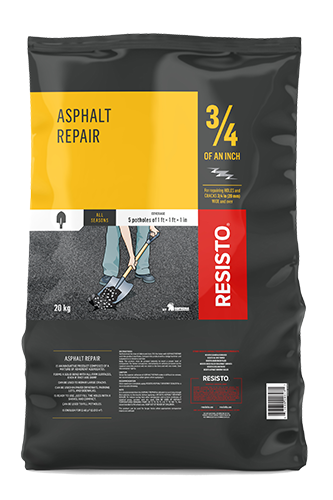 ASPHALT REPAIR
The ASPHALT REPAIR is composed of a ready-to-use mixture of adherent aggregates. It forms a solid bond with all firm surfaces, whether wet or dry. For the repair of holes and cracks of 20 mm (3/4 in) and more.
Benefits
Can be installed at any temperature
Tests and certifications

Characteristics
Trowel applied
Shovel applied
Instructions
Surface must be clean and dry. Remove crumbled asphalt or any loose material and remove ponding water.
The RESISTO ASPHALT REPAIR is designed to fill potholes and cracks of 3/4 in. (20 mm) and more. Allow the product to cure completely (firm and dry) before applying the RESISTO DRIVEWAY SEALER. The product must be pressed beside solid asphalt to ensure proper compaction and best performance.
Tools can be cleaned with solvents such as mineral spirits, Varsol, and xylene
Previous identity
RESISTOSEAL ASPHALT REPAIR
Conditioning
Packaging
20 kg (44 lb) bag
Coverage
0.013 m³ (0.46 ft³) (5 potholes of 1 ft x 1 ft x 1 in)
Packaging
10 kg (22 lb) bag
Coverage
0.007 m³ (0.25 ft³) (3 potholes of 1 ft x 1 ft x 1 in)