ACRYLIC ASPHALT RESTORER 6 YEARS
Fast-curing water-based acrylic coating used to prevent cracks and deterioration of asphalt surfaces caused by wear, freezing, oil and gasoline spills, salt, sun, and rain.
Benefits
Provides a very aesthetic deep black finish
No unpleasant odour
Simple, quick application using a roller
Tests and certifications

Instructions
Keep from freezing. Store in its original, closed packaging, in a cool, well-ventilated area and in a dry place between 10 °C to 40 °C (50 °F to 104°F).
Minimum application temperature
The substrate must be clean, dry, and free of dust, grease or other contaminants.
Avoid applying the product if there is a risk of rain, high humidity or frost within 24 hours of application. The asphalt repair must cure for a minimum of 15 days before the application of the ASPHALT PROTECTOR. Do not apply on surface if a coal-tar coating has been applied and is still in good condition.
Clean wet tools with water. When dry, clean with petroleum solvents, such as mineral spirits, Varsol, and xylene
Previous identity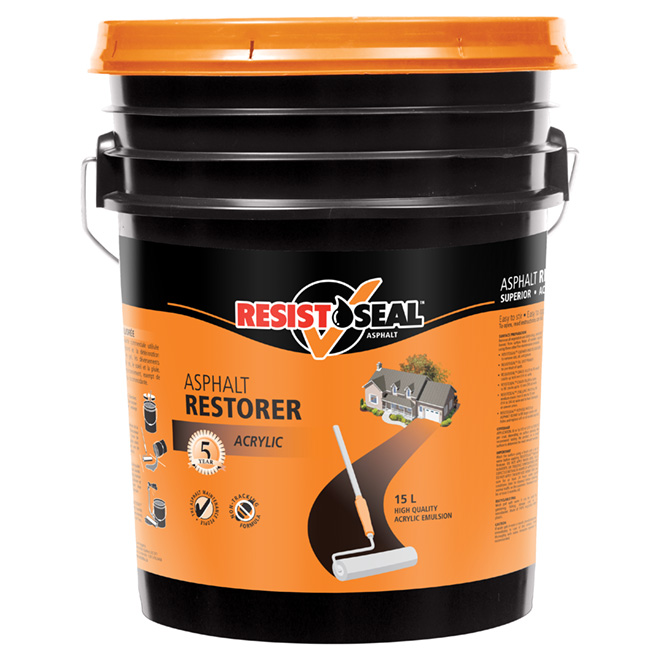 RESISTOSEAL ASPHALT DRIVEWAY RESTORER – ACRYLIC 5 YEARS
Conditioning
ACRYLIC ASPHALT RESTORER 6 YEARS
Coverage
32 to 75 m² (350 to 800 ft²)
Weight
17.8 kg (39.24 lb)
Palletization
ACRYLIC ASPHALT RESTORER 6 YEARS