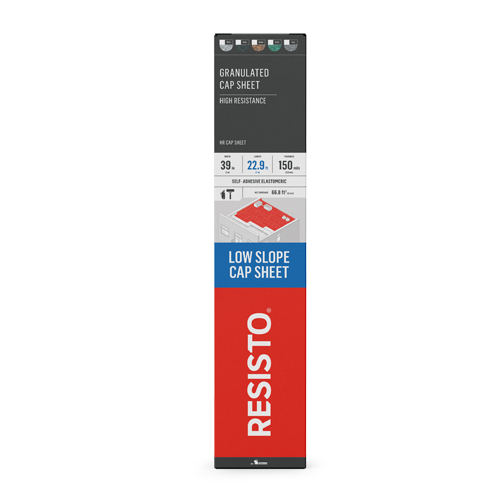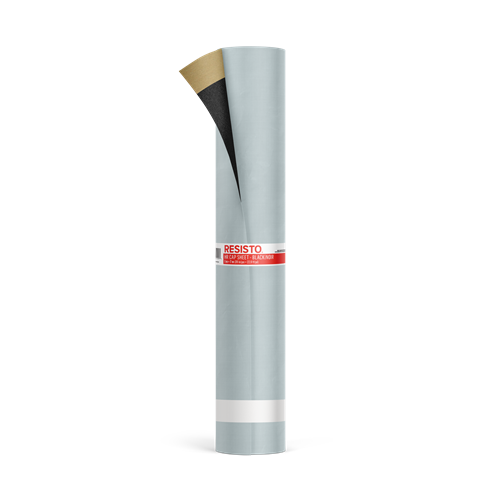 GRANULATED CAP SHEET - HIGH RESISTANCE - HR CAP SHEET
A 3.8 mm self-adhesive waterproofing membrane made of elastomeric SBS bitumen reinforced with a high resistance (HR) composite reinforcement and a coloured granule surface. The underface is composed of a silicone film easily detachable in two parts. This membrane is used with RESISTO single-ply and two-ply low-slope roof waterproofing systems.
For more details on the installation of our single-ply and two-ply systems, see our installation guides.
Available colors :

Benefits
High strength composite reinforcement
No specialized tools required
Durable
Tests and certifications

Characteristics
Plywood
OSB
Asphaltic panel
SBS modified bitumen membrane
Two parts silicone release film (split-back)
High performance composite
Instructions
Rolls should be stored upright. Tape side up. Can withstand freezing but must be reactivated to at least 10 ° C (50 °F) before installation.
Minimum application temperature
Heavy roller
Knife
Tape measure
Smoothing roller
The substrate must be clean, dry, and free of dust, grease or other contaminants.
It is not recommended to use a product containing bitumen directly on softwood boards or flexible polyvinyl chloride. For installation over EPDM or TPO membrane, please contact RESISTO technical service.
Previous identity
Conditioning
HIGH RESISTANCE CAP SHEET MEMBRANE
Gross area
7.00 m² (74.4 ft²)
Weight per skid
796 kg (1,755 lb)
HIGH RESISTANCE CAP SHEET MEMBRANE
Gross area
7.00 m² (74.4 ft²)
Weight per skid
796 kg (1,755 lb)
HIGH RESISTANCE CAP SHEET MEMBRANE
Gross area
7.00 m² (74.4 ft²)
Weight per skid
796 kg (1,755 lb)
HIGH RESISTANCE CAP SHEET MEMBRANE
Gross area
7.00 m² (74.4 ft²)
Weight per skid
796 kg (1,755 lb)
HIGH RESISTANCE CAP SHEET MEMBRANE (without box)
Gross area
7.00 m² (74.4 ft²)
Weight per skid
796 kg (1 755 lb)
HIGH RESISTANCE CAP SHEET MEMBRANE (without box)
Gross area
7.00 m² (74.4 ft²)
Weight per skid
796 kg (1 755 lb)
HIGH RESISTANCE CAP SHEET MEMBRANE (without box)
Gross area
7.00 m² (74.4 ft²)
Weight per skid
796 kg (1 755 lb)
HIGH RESISTANCE CAP SHEET MEMBRANE (without box)
Gross area
7.00 m² (74.4 ft²)
Weight per skid
796 kg (1 755 lb)
Palletization
HIGH RESISTANCE CAP SHEET MEMBRANE
Weight per skid
796 kg (1,755 lb)
HIGH RESISTANCE CAP SHEET MEMBRANE
Weight per skid
796 kg (1,755 lb)
HIGH RESISTANCE CAP SHEET MEMBRANE
Weight per skid
796 kg (1,755 lb)
HIGH RESISTANCE CAP SHEET MEMBRANE
Weight per skid
796 kg (1,755 lb)
HIGH RESISTANCE CAP SHEET MEMBRANE (without box)
Weight per skid
796 kg (1 755 lb)
HIGH RESISTANCE CAP SHEET MEMBRANE (without box)
Weight per skid
796 kg (1 755 lb)
HIGH RESISTANCE CAP SHEET MEMBRANE (without box)
Weight per skid
796 kg (1 755 lb)
HIGH RESISTANCE CAP SHEET MEMBRANE (without box)
Weight per skid
796 kg (1 755 lb)