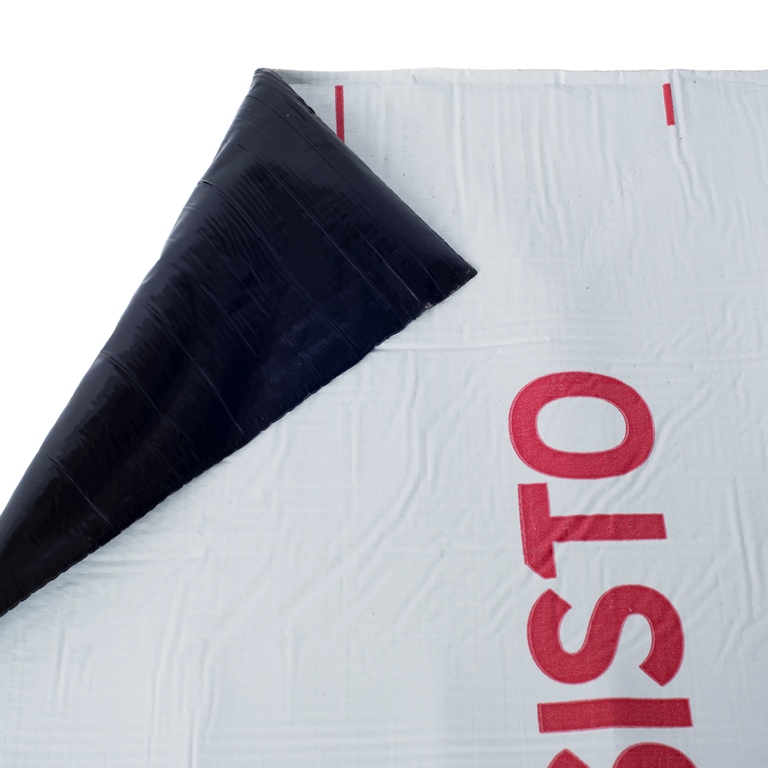 SELF-ADHERED WATERPROOFING MEMBRANE
The SELF-ADHERED WATERPROOFING MEMBRANE is a 1.5 mm selfadhesive membrane made of elastomeric SBS bitumen and trilaminate woven polyethylene. The underface is composed of a silicone film easily detachable. This membrane is mainly used as a base sheet in two-ply roofing systems as well as for the waterproofing of foundations, shower bases, and washrooms.
For more details on the installation of our roofing and foundation systems, see our installation guides.
Benefits
Great tear resistance
Self-sealing
Low-temperature grade also available
Tests and certifications

Properties
Roofing Underlayments
Waterproofing Membranes
Characteristics
Outside steep slope
Outside low slope
Outside very low slope
SBS modified bitumen membranes
Plywood
OSB
Asphaltic panel
Treated wood
Concrete
PWF
Masonry blocks
Gypsum
Aluminum
Fibre cement
Trilaminate woven polyethylene
-40 °C to 90 °C (-40 °F to 194 °F)
Instructions
Rolls should be stored upright, tape side up, protected from weather damage and UV rays. If the products are stored outdoors, cover them with an opaque protective cover after removing the delivery packaging. Can withstand freezing but must be reactivated to at least 10 ° C (50 °F) before installation.
Minimum application temperature
Winter grade: -10 °C (14 °F) Summer grade: 10 °C (50 °F)
Knife
Tape measure
Smoothing roller
Roller
The substrate must be clean, dry, and free of dust, grease or other contaminants.
It is not recommended to use a product containing bitumen directly on softwood boards or flexible polyvinyl chloride. The BASIC WATERPROOFING MEMBRANE must usually be covered with the RESISTO HR CAP SHEET within the same day. Therefore, if a delay of few days occurs in between the application of the two membranes, the BASIC WATERPROOFING MEMBRANE must be cleaned, dried and primed using the RESISTO EXTERIOR PRIMER prior to the GRANULATED CAP SHEET - HIGH RESISTANCE installation.
Previous identity
BASIC WATERPROOFING MEMBRANE
Conditioning
BASIC WATERPROOFING MEMBRANE
Gross area
18.6 m² (200 ft²)
Net area
16.6 m² (178.2 ft²)
Weight
27.38 kg (60.36 lb)
Weight per skid
685 kg (1 510 lb)
BASIC WATERPROOFING MEMBRANE
Gross area
10.00 m² (107.3 ft²)
Weight per skid
555 kg (1,223 lb)
BASIC WATERPROOFING MEMBRANE
Gross area
3.50 m² (38.3 ft²)
Weight per skid
396 kg (873 lb)
BASIC WATERPROOFING MEMBRANE LT (LOW TEMPERATURE)
Gross area
18.6 m² (200 ft²)
Net area
16.6 m² (178.2 ft²)
Weight
27.38 kg (60.36 lb)
Weight per skid
685 kg (1 510 lb)
Palletization
BASIC WATERPROOFING MEMBRANE
Weight per skid
685 kg (1 510 lb)
BASIC WATERPROOFING MEMBRANE
Weight per skid
555 kg (1,223 lb)
BASIC WATERPROOFING MEMBRANE
Weight per skid
396 kg (873 lb)
BASIC WATERPROOFING MEMBRANE LT (LOW TEMPERATURE)
Weight per skid
685 kg (1 510 lb)