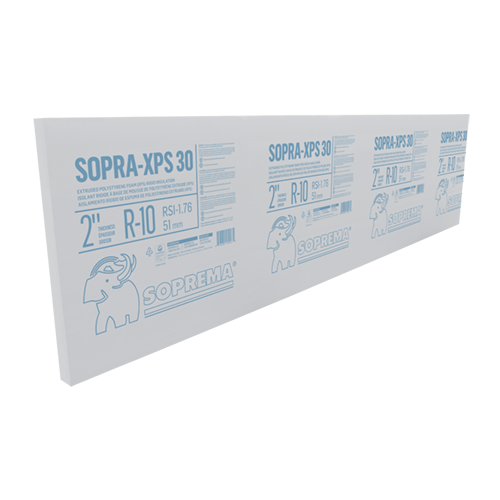 SOPRA-XPS 30
SOPRA-XPS 30 is a rigid thermal insulation board made of extruded polystyrene with shiplap or square edges on its four sides. It is composed of closed cell foam. It is mainly used as a thermal insulation for SOPREMA foundation wall systems and under concrete slabs where the applied loads do not exceed 30 psi. Compliant with CAN/ULC-S701.1 Type 4.
Up to 70% recycled and recovered content for the entire product line.
Benefits
Exceptional resistance to water and humidity
Durable and strong
Superior initial and long-term thermal performance (R-5/in)
Tests and certifications

Instructions
SOPRA-XPS 30 thermal insulation boards must be stored on a flat substrate, protected from UV and sheltered from inclement weather. As they are flammable, they must be protected and kept away from flames and intense heat sources during transportation, handling, storage, and installation.
Conditioning
SOPRA-XPS 30 with shiplap edges
SOPRA-XPS 30 with shiplap edges
SOPRA-XPS 30 with shiplap edges
SOPRA-XPS 30 with shiplap edges
SOPRA-XPS 30 with shiplap edges
SOPRA-XPS 30 with shiplap edges
SOPRA-XPS 30 with square edges
SOPRA-XPS 30 with square edges
SOPRA-XPS 30 with square edges
SOPRA-XPS 30 with square edges
SOPRA-XPS 30 with square edges
Palletization
SOPRA-XPS 30 with shiplap edges
SOPRA-XPS 30 with shiplap edges
SOPRA-XPS 30 with shiplap edges
SOPRA-XPS 30 with shiplap edges
SOPRA-XPS 30 with shiplap edges
SOPRA-XPS 30 with shiplap edges
SOPRA-XPS 30 with square edges
SOPRA-XPS 30 with square edges
SOPRA-XPS 30 with square edges
SOPRA-XPS 30 with square edges
SOPRA-XPS 30 with square edges