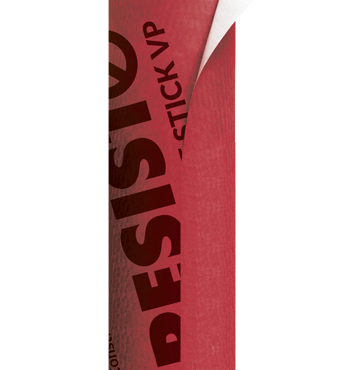 VAPOR-PERMEABLE AIR BARRIER MEMBRANE REDZONE STICK VP
Self-adhesive vapour-permeable air barrier membrane composed of a trilaminated polyethylene complex on its surface. It is used in wall construction and stands out thanks to its unmatched adhesive properties without primer.
Benefits
Better adhesive properties than products from the competition (without primer).
Up to 180-day UV exposure
Self-sealing membrane ensuring continuous waterproofing
Tests and certifications

Properties
Vapour-Permeable Air-Barrier Membranes
Tri-layer laminated polypropylene
Caracteristics
Wood
Concrete
Masonry blocks
Gypsum
Trilaminate polypropylene complex
-45 °C to 85 °C (-49 °F to 185 °F)
Instructions
Rolls should be stored upright, tape side up, protected from weather damage and UV rays. If the products are stored outdoors, cover them with an opaque protective cover after removing the delivery packaging.
Minimum application temperature
Knife
Tape measure
Smoothing roller
The substrate must be clean, dry, and free of dust, grease or other contaminants.
Use RESISTO H₂O PRIMER on applications where an adhesion enhancer is mandatory on the substrate (see product information on the specification sheet for conditioning).
Conditioning
VAPOR-PERMEABLE AIR BARRIER MEMBRANE REDZONE STICK VP
Gross area
6.90 m² (73.5 ft²)
Weight per skid
203 kg (437 lb)
VAPOR-PERMEABLE AIR BARRIER MEMBRANE REDZONE STICK VP
Gross area
3.00 m² (32.7 ft²)
Weight per skid
203 kg (437 lb)
VAPOR-PERMEABLE AIR BARRIER MEMBRANE REDZONE STICK VP
Gross area
4.50 m² (49.0 ft²)
Weight per skid
203 kg (437 lb)
VAPOR-PERMEABLE AIR BARRIER MEMBRANE REDZONE STICK VP
Gross area
9.00 m² (98.0 ft²)
Weight per skid
203 kg (437 lb)
VAPOR-PERMEABLE AIR BARRIER MEMBRANE REDZONE STICK VP
Gross area
28.50 m² (302.2 ft²)
Net area
26.9 m² (285 pi²)
Weight per skid
203 kg (437 lb)
Palletization
VAPOR-PERMEABLE AIR BARRIER MEMBRANE REDZONE STICK VP
Weight per skid
203 kg (437 lb)
VAPOR-PERMEABLE AIR BARRIER MEMBRANE REDZONE STICK VP
Weight per skid
203 kg (437 lb)
VAPOR-PERMEABLE AIR BARRIER MEMBRANE REDZONE STICK VP
Weight per skid
203 kg (437 lb)
VAPOR-PERMEABLE AIR BARRIER MEMBRANE REDZONE STICK VP
Weight per skid
203 kg (437 lb)
VAPOR-PERMEABLE AIR BARRIER MEMBRANE REDZONE STICK VP
Weight per skid
203 kg (437 lb)