The Drainage Board: The Affordable Solution for Sustainable Foundations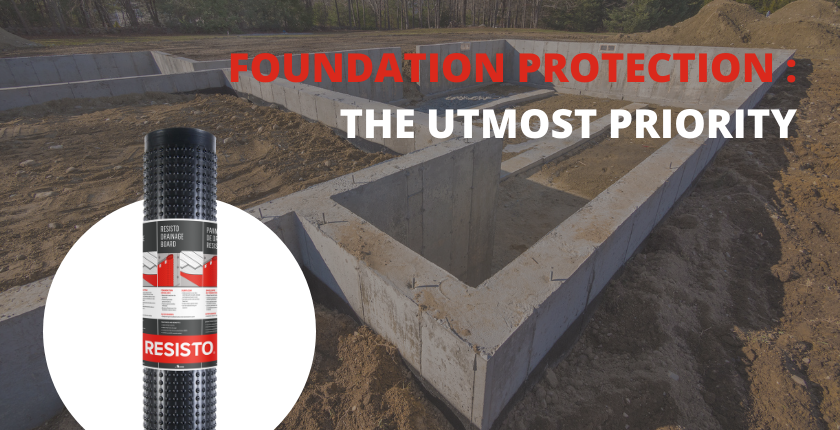 Water and moisture infiltration in the foundations of your home or building can become a real nightmare and lead to major, expensive work. This is why it is essential, when designing the foundation system, to make its protection the utmost priority. Fortunately, several solutions make it possible to adapt to all situations. One specific product stands out and has undeniable benefits for homeowners and installers.
Before we go any further, let's see what the National Building Code[1] says about the protection required for foundations.
National Building Code – Canada 2015
9.13.2. Dampproofing
9.13.2.1. Required Dampproofing
Except as provided in Article 9.13.3.1., where the exterior finished ground level is at a higher elevation than the ground level inside the foundation walls, exterior surfaces of foundation walls below ground level shall be dampproofed.
9.13.2.2. Dampproofing Materials
 Materials installed to provide required dampproofing shall be
apable of protecting assemblies against moisture transfer from the ground;
compatible with adjoining materials; and
resistant to mechanisms of deterioration that may reasonably be expected, given the nature, function and exposure of the materials.
Waterproofing or Dampproofing
In accordance with the National Building Code, the protection of foundations below ground level is essential. In this context, waterproofing is the treatment of a surface to make it resistant to the passage of moisture in the absence of hydrostatic conditions. RESISTO has a perfect waterproofing solution to facilitate water drainage, i.e. the BELOW-GRADE DRAINAGE BOARD.
What Is Hydrostatic Pressure?
It is essential to control hydrostatic pressure in order to avoid any unwanted humidity infiltration. Hydrostatic pressure is exerted by a stationary liquid in all directions against adjacent surfaces. The water exerts a pressure of 0.43 psi per foot of depth. In addition to the normal depth of the water column, there is also seasonal precipitation.
Hydrostatic pressure creates two difficulties:
It puts additional loads on the structural elements.
It makes waterproofing more difficult as the pressure tends to force the water into any crack or imperfection in the structure.
What to Do in the Presence of Hydrostatic Pressure?
The solutions offered on the market have different resistance levels to hydrostatic pressure; the pressure the project must withstand can affect your design and product choices. The drainage board is an easy-to-use solution and offers excellent resistance to hydrostatic pressure. For example, the RESISTO BELOW-GRADE DRAINAGE BOARD can withstand pressure up to 6,000 lb/ft². For reference, this pressure is comparable to 6 pool tables that would sit on a single square foot.
What Is a Drainage Board?
The use of a drainage board helps relieve hydrostatic pressure and helps extend the life of the foundation. Proper design means having the least possible amount of water reaching the foundation, and water management is highly recommended in all below-grade assemblies.
Drainage boards are generally made of impact-resistant dimpled plastic. Their function is to direct water by gravity to the drainage system. The dimples create an air space that allows the concrete to breathe while controlling the humidity. Thus, the moisture or water present in the ground will flow to the drain near the footing.
THE RESISTO BELOW-GRADE DRAINAGE BOARD
The RESISTO BELOW-GRADE DRAINAGE BOARD is very versatile! It can be used with block walls, cast concrete walls, preserved wood foundations (PWF) and existing foundations for renovations. The RESISTO BELOW-GRADE DRAINAGE BOARD adapts well to uneven surfaces and has easy-to-use metal fasteners allowing the board to be installed without temperature limitations.
Why Choose the RESISTO BELOW-GRADE DRAINAGE BOARD?
Dual Protection Against Leaks
Keeps damp soil away from the wall and provides necessary drainage.
Eco-Friendly
The RESISTO drainage board is made of high-density polyethylene containing approximately 85% recycled materials, with no by-products that could contaminate the ground or the air.
Excellent Warranty
Thirty-year product warranty when used as a foundation envelope.
Quick and Easy to Install
The metal fasteners can be attached to all types of foundations, in all weather, and do not require special tools.
CCMC Certification: An Undeniable Asset
Canadian building codes define which products and systems must be used by law to protect health and safety in home construction. Many requirements refer to product, performance, design or installation standards, or to traditional approaches. However, as new products and systems are developed, they may use different approaches, such as drainage boards for foundation moisture protection.
The Canadian Construction Materials Centre is a national organization that evaluates innovative products, materials, equipment, installation methods, design standards, etc. to see if they can be accepted as complying with Canadian building, fire and plumbing codes.
The CCMC certification obtained for the RESISTO BELOW-GRADE DRAINAGE BOARD therefore represents the result of RESISTO's efforts and expertise over the past few years to promote effective solutions to protect the entire building envelope.
In conclusion, although several aspects can influence your choice of products and design to protect your foundation, this protection remains essential. Therefore, it is important to understand local requirements to ensure that the product you choose meets them all and will be installed correctly. We hope this article has provided you with useful information and has helped you find the solution best suited to your needs. For more information, please check our website or contact us!