Insulating Your Attic and Foundation: A Strategy That Pays Off!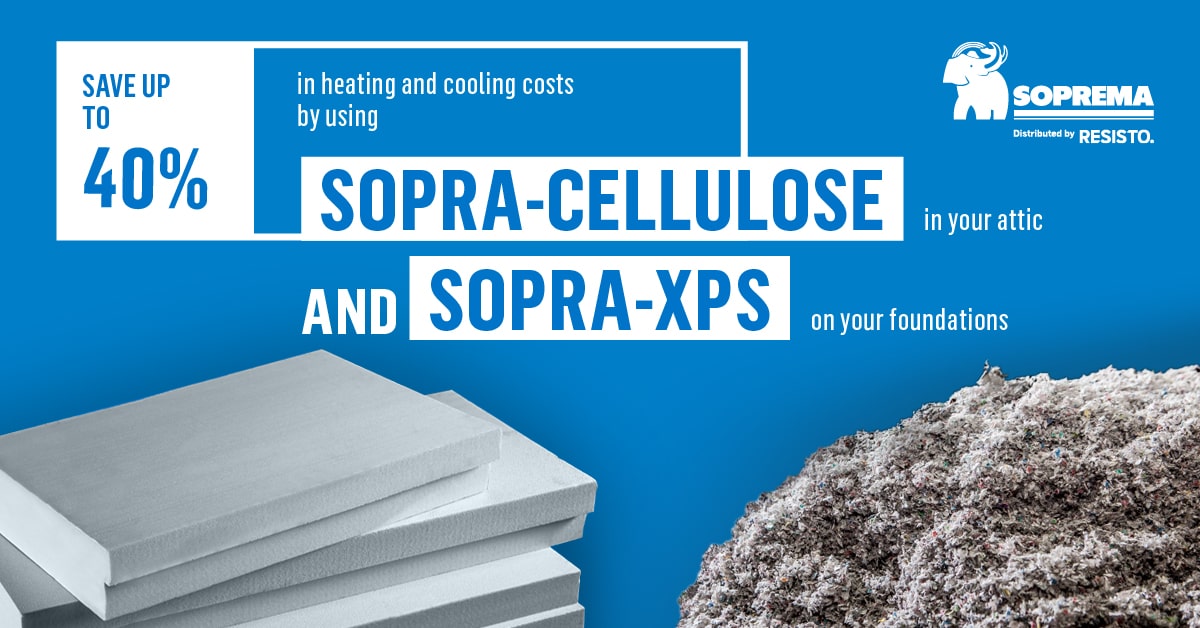 During the winter, are you cold in your house and still getting hefty heating bills? Your attic and foundations may be poorly insulated…
Heating and cooling are responsible for 54% of your electricity consumption. If your house is poorly insulated, it could cost you a lot as you would have to heat up more to compensate for heat loss in winter, or to cool down more when the heat of summer sneaks into your home. Also, your comfort could be gone with the wind. Moreover, the more energy a building consumes, the more likely it is to release greenhouse gases. Whether you're giving your wallet or your ecological conscience a break, energy performance is not a luxury – it's a necessity!
Most Canadians keep an eye on the waterproofing of their doors and windows, but few think of checking the insulation in their attic and foundations walls. Yet, according to the estimates of HOT2000 software, insulating the attic and foundations walls can help reduce annual energy consumption by about 40%*.
Basement Insulation with SOPRA-XPS Panels
With the HOT2000 software, we simulated the use of SOPRA-XPS extruded polystyrene insulation panels on the foundations walls of a two-storey, single-family house built in 1970. Originally, the uninsulated concrete walls had a thermal resistance of R-8. After the addition of SOPRA-XPS panels, the thermal resistance climbed to R-20, resulting in a reduction of about 32% in energy consumption and savings of $692 on the annual electricity bill.
SOPRA-XPS panels have several characteristics that make them the perfect product for insulating your basement:
They are resistant to water and moisture;
They can withstand significant temperature variations and freeze-thaw cycles without getting damaged;
They are resistant to mould and bacteria;
They are light, rigid, non-friable, and easy to install;
They can be cut without generating dust;
They are offered in various compressive forces;
They are certified GREENGUARD Gold, a standard confirming that the materials emit little or no volatile organic compounds (VOCs), which helps to improve the air quality.
Attic Insulation with SOPRA-CELLULOSE
For the attic of the above-mentioned house, we simulated the addition of SOPRA-CELLULOSE, an insulation product made of 85% recycled paper and 15% flame-retardant minerals. The initial insulation level of R-12 rose to R-51, resulting into savings of about 8% in energy consumption and $240 on the annual electricity bill.
SOPRA-CELLULOSE insulation stands out in a number of ways:
Its thermal resistance is the most effective on the fibre insulation market;
It reduces the transmission of heat and sound;
It forms a homogeneous, seamless cushion in the interstices of the structure, which limits air infiltration and thermal bridges;
It provides superior flame resistance;
It provides resistance to mould and insect pests;
It's certified GREENGUARD Gold, a standard confirming that the materials emit little or no volatile organic compounds (VOCs), which helps to improve the air quality.
Overview of HOT2000 (2e image dans mes dossiers)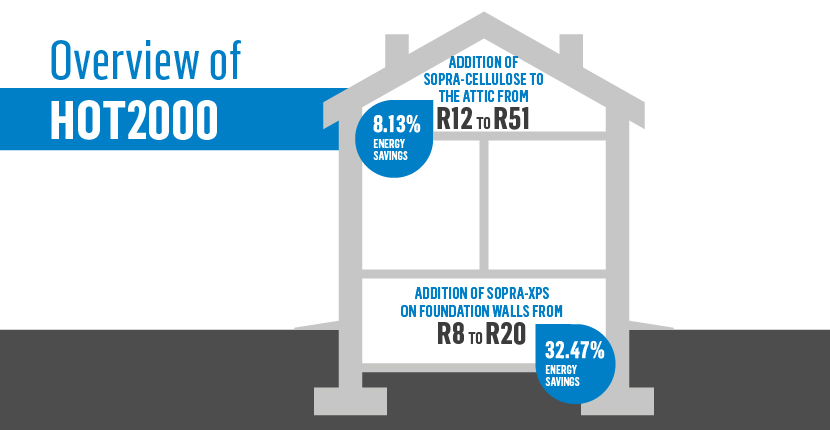 Characteristics of the house used for the simulation:
Single-family house
Two storeys
Year of construction: 1970
Size: 24 ft × 28 ft (7.3 m × 8.5 m)
Location: Montréal
Two front and back windows
Thermal resistance: R-12 in the attic
Thermal resistance: R-8 in the walls
Uninsulated foundations walls
Thermal resistance of header joists of R-8
Addition of SOPRA-CELLULOSE to the attic -> from R-12 to R-51 = 8.13% energy savings
Addition of SOPRA-XPS on foundations walls -> from R-8 to R-20 = 32.47% energy savings
Addition of SOPRA-CELLULOSE and SOPRA-XPS -> 39.26% energy savings
Do Your Attic and Foundations Need Insulation?
Here are some unmistakable signs indicating that your attic and foundations might need better insulation:
Formation of ice on the edge of the roof gutters or shingles;
Unusually high heating bills compared to those of similar houses;
Condensation or infiltration on the roof deck (support);
Mould on the upper floor.
Remember that during the winter, up to 15% of the heat from the house can be lost through the basement walls and 11% through the roof!
Other Tips and Tricks to Reduce Your Energy Consumption
Once your attic and foundations are kept warm, you might consider these small tips to help you consume even less energy in your home:
With a tissue, check for air leaks around windows and doors. If the tissue moves, it means that air is coming in or going out. Caulk windows and doors.
Insulate the water heater and hot water pipes.
Install energy-efficient showerheads and use certified water-saving products to reduce hot water production.
Choose energy-efficient appliances that are certified ENERGY STAR®.
Avoid running the air conditioning system while you are away.
Use electric fans before using the air conditioner.
Hang your clothes outside to dry during the summer.
Inspect and clean your heating unit regularly.

 

Change the filters of your central heating unit every month during the winter.
Turn down the heating at night and while you're away.
For other ecofriendly habits, visit your utility provider's website.
*Up to 40% reduction in energy consumption. The reduction is calculated by the HOT2000 software, Version 11.5, for a two-storey, single-family house built in 1970, 24 ft × 28 ft (7.3 m × 8.5 m) per floor. Heat resistance in the attic increased from R-8 to R-51, and from R-8 to R-20 for the basement walls. The HOT2000 software is an energy design and simulation tool for residential buildings. It was developed by Natural Resources Canada (NRCan) to support the energy efficiency initiatives of the EnerGuide and ENERGY STAR classification systems for new and R-2000 houses.