Our Self-Adhesive Membranes: The Sustainable Solution for Construction Without Compromise
RESISTO is proud to collaborate again with the two entrepreneurs behind the Our Eco House project, Julien Roussin and Karolina Krupa of Go-Van. After making their eco-responsible self-build dream come true in the Eastern Townships in September 2021, they wanted to create functional mini units for teleworkers and creative entrepreneurs. They named their unique project Go-Box. Discover these units designed and manufactured in Québec!
The Story Behind the Go-Box Project
Having lived on the road for several years, the two nomads were constantly looking for quiet places to work remotely. This was the beginning of Go-Box: multifunctional, four-season mini units. Whether you prefer nature or the city, everything is possible with these mini cabins that adapt to your lifestyle.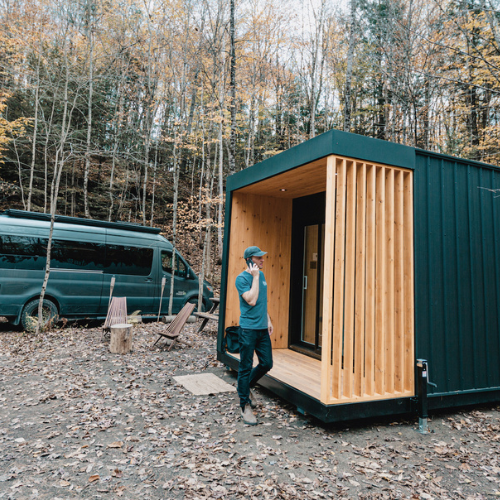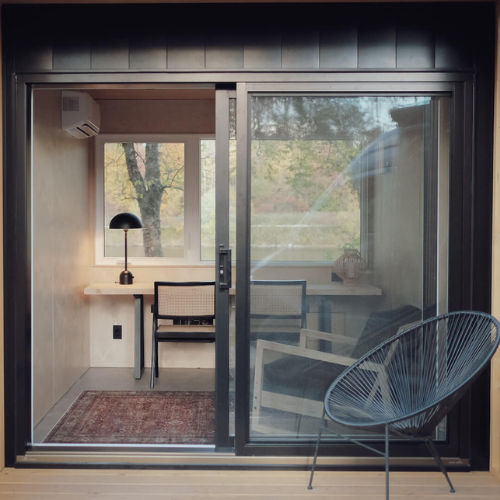 Who Are Go-Box Units for, and What Is Their Purpose?

Go-Box units are designed for a wide customer pool: self-employed workers, businesses, trades, artists, etc. They aim to bring people closer to nature and their favourite activities by offering facilities near bike trails, ski resorts and spas. Julien and Karolina have also been approached for many creative projects ranging from luxury ready-to-camp accommodation (glamping) to offices in the countryside for employees, to shops and massage parlours. The possibilities are truly endless! In addition, high-end units will soon be available for more luxurious projects. Currently, Go-Boxes are available for sale to individuals.
A Partnership Rooted in a Shared Vision

Eco-responsible and sustainable construction was of paramount importance to the two entrepreneurs. Having already worked with RESISTO for their self-build project, they decided to pursue this great collaboration. They were looking for products that were both high-performance, Canadian and able to withstand the extreme cold in Québec. Their eco‑responsible approach fit perfectly with that of RESISTO.
Why Choose Self-Adhesive Membranes?

Julien and Karolina have selected, with the valuable help of our RESISTO experts, three self‑adhesive membranes to ensure the waterproofing of the walls, roof, and around the door and windows of the Go-Box units.

Their decision was motivated by the speed and the ease of installation of these membranes, which also play an essential role in the reduction of thermal bridges, guaranteeing optimum waterproofing.
Here are details on the three products that have been applied to the Go-Box structure.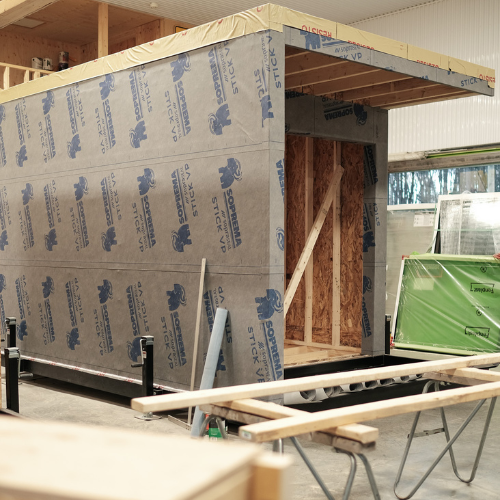 SOPRASEAL STICK VP
SOPRASEAL STICK VP was used on the walls as a self-adhesive vapour-permeable air barrier membrane. In addition to being quick and easy to install, its self-sealing properties ensure maximum waterproofing for all Go-Box units. It requires no primer and can withstand UV rays for 180 days. It can be applied on most construction surfaces, such as masonry, concrete, wood, and gypsum sheathing.
It is the grey membrane shown in the pictures above.
LASTOBOND PRO HT-N HIGH TEMPERATURE ROOF UNDERLAYMENT WATERPROOFING MEMBRANE

LASTOBOND PRO HT-N was selected to ensure the waterproofing of the roof. It is a self-adhesive roofing underlayment made of SBS-modified bitumen. Recognized for its efficiency under sheet metal roofs, this membrane has proven to be the ideal solution to maximize the energy performance of the units. In addition to being self-sealing around screws and nails, it offers UV resistance for up to 90 days. It can also withstand high temperatures of up to 90 °C (194 °F), making it a reliable and robust product.
It is the beige membrane shown in the pictures above.
ALL-WEATHER BUTYL FLASHING TAPE
To ensure optimal waterproofing around the door and windows, ALL-WEATHER BUTYL FLASHING TAPE has been applied. This self-adhesive membrane, made of rubberized butyl, creates an effective barrier against air and water infiltration. It is easily applied on wood, aluminum, polyethylene or PVC surfaces or on air barrier membranes and exterior fibreglass gypsum. It requires no primer and offers superior adhesion over a wide temperature range from -15 °C to 65 °C (5 °F to 149 °F).
It is the white membrane shown in the middle picture above.
Where Are the Go-Box Units Located?
Currently, two units are available for rent in Estrie. "Our dream is to have remote work units across Québec! Our Go-Box takes the concept of remote work to another level, and it makes it possible to improve the way Quebecers travel and work from now on." – Julien Roussin, Owner of Go-Van
OUR ECO HOUSE
Have you had an opportunity to read our article "RESISTO-Style Eco House"?
This story will teach you more about Julien and Karolina's self-build project, including the products they used, the specificities, and the challenges they met.
By learning more about this collaboration, you will discover our desire to take part in changes in the industry. We will show you that it is possible to design the house of tomorrow: greener and more sustainable.