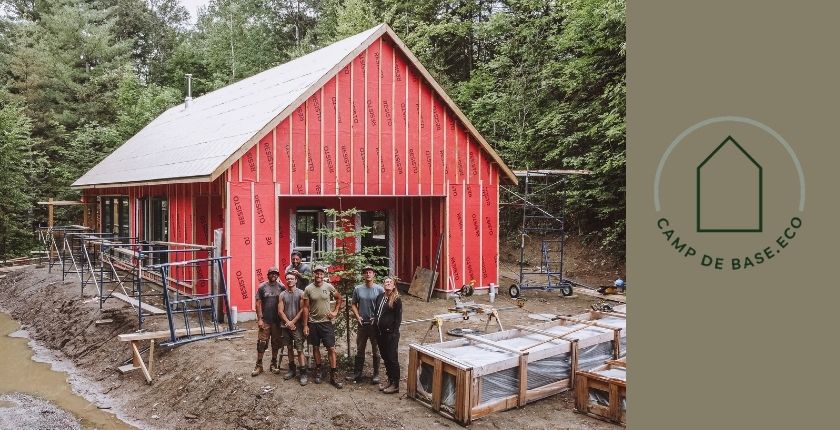 RESISTO is proud to participate in the "Notre maison éco" (Our Eco House) project run by Julien and Karolina, the two creators behind the Go-Van brand. Like them, we believe in the importance of reinventing the way we build our homes. By partnering with "Notre maison éco", we wanted to take part in the changes in the industry and demonstrate that it is possible to design the house of tomorrow yourself.
Follow the Adventures of Julien and Karolina and All the Stages of Their Project on tou.tv!*
*Only available in French
The House of Tomorrow
These two lovebirds have spent the last few years travelling the roads of North America in their van that had become their home. Planning to start a family soon, the nomadic couple wanted to establish a more permanent base camp and therefore challenged themselves with the self‑construction of their future home: an eco-responsible house in the heart of nature in the Bolton Valley, in the Eastern Townships.
Over the course of their travels, Julien and Karolina had the opportunity to discover many alternative dwellings that inspired the very precise vision of the ideal home for their family:
Minimalist
Passive-solar orientation
Technological
Smart
Energy efficient
Environmentally friendly
Design focused
Made with local materials
An ambitious list, isn't it? But even that's not all! The couple wanted to find a balance between all these elements, and to respect a limited budget of $300,000 (excluding the land).
RESISTO Comes Into Play
This project was no problem for RESISTO and our team of experts. Our various waterproofing and insulation solutions enabled Julien and Karolina to meet almost all of their criteria!
Featured Products
Insulation
Waterproofing – Doors and Windows
"Our goal was to build their house with an eco-responsible approach using sustainable materials with high energy performance. Waterproofing and reduction of thermal bridges were essential in this project. Working with SOPREMA was natural for us because of their concern for the environment and involvement in the community. In addition, communication with their team was great and our project went very smoothly!" – Julien Roussin Côté, Founder of Go-Van.com and CampDeBase.eco
We are delighted to have been able to take part in this project, which paves the way for a new era and demonstrates that it is possible to rethink the construction of a house from a sustainable development perspective, all the while choosing Canadian materials.
Do you want to follow the adventures of Julien and Karolina and learn more about the basics of green self-construction housing? Visit tou.tv and watch the episodes of the miniseries produced with Urbania and Radio-Canada!