The WATERPROOFING REPAIR KIT FOR FOUNDATION CRACKS contains all the materials needed to repair cracks in the treated-wood or concrete foundations of residential and commercial buildings.
Application of the RESISTO PRIMER
Mix the primer well before application.
Apply a coat of RESISTO EXTERIOR PRIMER with a brush or roller on a clean, dry surface.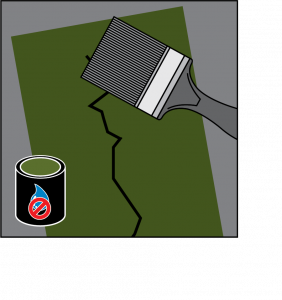 Allow 15 minutes to two hours for the primer to dry, depending on the ambient temperature and the amount applied. The primer is dry when it is sticky to the touch, but not messy.
Fill the crack with RESISTO ELASTOMERIC SEALER.
Installation of the waterproofing membrane
While removing the protective film, apply the SELF-ADHERED WATERPROOFING MEMBRANE on the crack.
Apply pressure to the entire surface of the membrane with a roller to ensure good adhesion.
Apply the ELASTOMERIC SEALANT all around the membrane piece.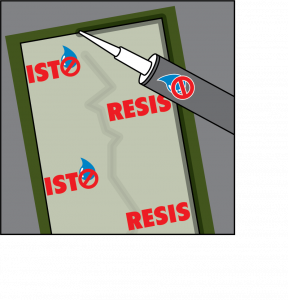 This Installation Guide refers to the minimum installation steps required for the RESISTO product mentioned above. Please note that additional steps may be necessary depending on the substrate. However, this procedure is subject to change. RESISTO reserves the right to modify the documents and procedures at any time. Under no circumstances will RESISTO be liable for installation defects. For more information, please contact your representative, RESISTO's technical support team, or your construction professional.